When summer arrives, staying cool and comfortable is a priority for any girl. But as temperatures rise, it can be hard to avoid the classic summer uniform - cut-off shorts, a tee, and that old, worn pair of flip flops - day in and day out. Dressing for warm weather can be a challenge, yes, but it doesn't mean sacrificing your personal style for comfort. Here are some of my favorite tips and tricks for beating the heat with an easy and comfortable summer look:
Choose breathable, light fabrics
If you plan to spend an afternoon out in the sun, picking light fabrics that are breathable is the first step in staying comfortable. Look for fabrics like cotton, linen, chambray, or seersucker (a thin, all-cotton fabric characteristic by its bumpy texture). Light fabrics such as these won't cling, which helps air to flow and you to stay cool. It's important to keep in mind your activities for the day, since fabrics like linen and chambray wrinkle easily, while seersucker is known for its ease of care.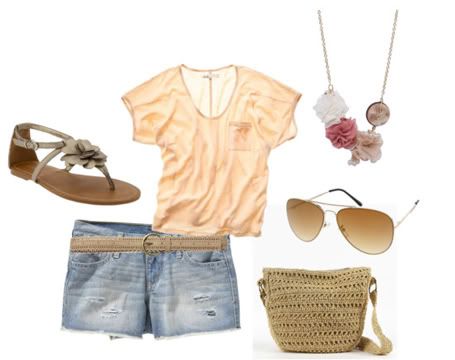 Stick with light colors
It's an age-old tip, but light colored clothing is always a great choice for summer. Staying with a white or pastel color palette will help reject heat, unlike darker colors. The look above is a great example of a classic summer look that combines light colors and breathable fabrics. The sheer tee is a light cotton blend and the breezy fit will save you from sweltering out in the sun. Trade flip flops for a cute, functional pair of sandals, keep accessories simple and functional, and remember that when it comes to high temperatures, less is always more in an outfit.
Opt for loose and breezy fits
As mentioned, stay was from tightly fitted or restrictive clothing. Pieces that cling won't be comfortable if you are already hot and stick from the heat. This will also help keep you cool, since too high of a body temperature can easily lead to head stroke. The green dress above is a functional summer piece: loose but flattering, breathable cotton, and the green color really makes it stand out. A cotton dress is a staple in any summer wardrobe, which can easily be dressed up with wedges like the ones above or turned casual with sandals. A floppy sun hat is a cute and functional statement piece - one of my personal favorites for a summer accessory.
Avoid bulk and layers
Piling on the layers on a summer day can quickly lead to overheating. Consider carrying a light-weight jacket with you for those slightly chiller summer nights, but don't overcompensate. Layered summer looks should stick to the same lightweight fabrics that won't be restrictive or cling to the body. In the outfit below, I paired a floral dress with a sleeveless denim vest that can easily be removed if it gets too warm outside. I always try to keep accessories minimal and these cut wedges from Top Shop offer a cut-out detail that will help keep you cool from head to toe.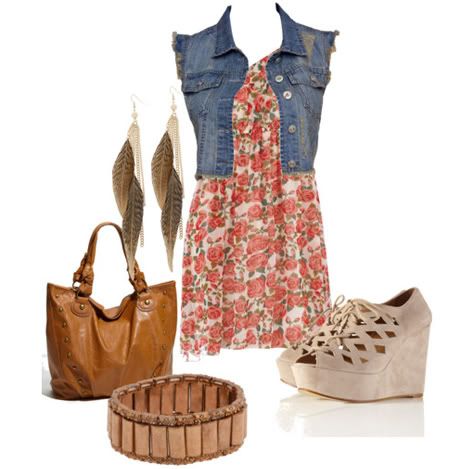 Shop the look: Dorothy Perkins dress, Desire denim vest, TopShop heels, Nordstrom bag, Jessica Simpson bangle, Aldo earrings

Reach for functional summer accessories
The outfits above feature two of my must-haves for the summer season: a pair of sunglasses and a floppy sun hat. Look for sunglasses that off UV protection that will shield your eyes when you are out and about. And a wide-brimmed hat can keep sun off your face, helping to protect from sunburns. When it comes to jewelry, as mentioned, I am a firm believe in the mantra: "less is more." A statement necklace can dress up a classic short and tee combo without adding too much extra weight and bulk, but consider leaving the watch, stack of bangles, and rings for when the days begin to cool down.